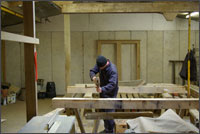 With our years of building experience, we believe we are the best qualified to help you create a building that you will always be pleased with.
In support of our commitment to quality, we continue to work purposefully to find supplies and materials that will mean you can always be guaranteed a building that requires the lowest possible maintenance.
Badger Barns are constructed of oak posts, morticed and tennoned to plates, shaped oak braces. Roofs are made only from pressure-treated timbers that complement the overall building style and optimise usable roof space. Roofs are finished with reclaimed clay tiles or new clay tiles, giving an immediate weathered appearance.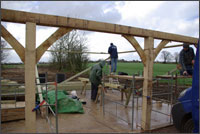 External wall cladding is of oak weatherboarding. Oak doors are available to secure garage openings or storage areas.
Variations may include:
Gabled or Cropped Gables to roofs.
Brickwork under external walls.
Garage ceiling and joists to roof void.
Hand-made mullion windows.
Hand-made leaded light inserts to standard window.
Building Regulations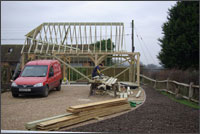 Building Regulations are required for buildings having an internal floor area in excess of 30 square metres.
Groundwork
If required, this can be arranged through us.